Popmoney

Put the power of anytime payments in the palm of your hand
Easily send or request money securely with an email or mobile number. For example, pay a friend for your half of the lunch tab, right on the spot. Read on to see how easy it is to start using Popmoney.
How it works
Popmoney gives you the power to send money to (or receive money from) anyone with an email address or mobile phone number. You can also send directly to a domestic bank account number. It's the convenient and secure way to make individual payments any time – in as little as one business day.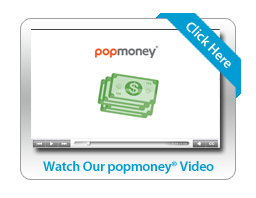 Safe and secure
Popmoney processes transactions through multiple security levels, ensuring that your personal and financial information is always protected.
Get started today!
To use Popmoney, you need to have enrolled in Hometown Bank's Online Banking. If you are not an Online Banking customer, you can enroll here.
Next, you need to have Bill Pay.
If you are already using Online Bill Pay:
Log in and select "Popmoney" from the Bill Pay box.
Select the recipient under "Send Money To" or, if you're sending money to a new recipient, click on "Add Someone New" and enter their first and last name, email address or mobile phone number*, the amount you wish to send and an optional message.
Click on "Send Money"** – that's it!
Still need to sign up for Online Bill Pay?
Log into Online Banking from the Account Access area. Once in Online Banking select the Bill Payment button to enroll and begin enjoying all the benefits of Bill Payment and Popmoney.
*Note: To add a new recipient using his or her bank account information, set this up inside Online Bill Pay. Simply click on "Popmoney," then "Contacts," and select "Direct Deposit." Follow the instructions to complete the setup.
**A small fee applies to send and request money through Popmoney.